We pride ourselves on our ability to safely handle millions of shipments each year. We minimize the chance of accidental loss or damage to your freight through an aggressive internal claims prevention program. The reward for this effort is a claims ratio well below the industry average.
If you have a cargo claim, rest assured that we will handle your claim promptly and fairly. We follow the federal regulations set forth in 49 C.F.R. Part 370; industry guidelines; and the EXLA105 series rules tariff. We will acknowledge your claim within five working days of receipt, and while we make every effort to conclude all claims within 30 days, some claims do require additional investigation.
In the event of concealed damage, i.e., damage not readily observable on delivery, you must notify the local terminal within five days of receipt to request an inspection. Please be sure to retain all cartons and packaging materials from the damaged shipment.
When filing a claim please follow the procedures listed below:
File all claims in writing. List the PRO number and the amount of the claim.
Provide proof of payment of the freight bill, a copy of the Bill of Lading, an invoice indicating the cost of the goods, and a repair invoice for the parts and labor (when applicable).
All claims must be received within nine months of the date of delivery, or within a reasonable time of the date of shipment if nondelivery occurs.
If you have any questions about our claims policies and procedures, please contact your local Estes terminal, or call our Claim Resolution Services team at (804) 353-1900, Ext. 2030.
Claims Presentation Form [pdf]
You must have the Adobe Acrobat Reader to view the document.
How to submit a claim:
The best way to submit your claim information is through My Estes. You may also fax the form to us at 804-232-1407 or mail it to us at the address below. Please do not file the claim through multiple venues, as this will delay processing.
Address:
Estes Express Lines
Attn: Claim Resolution Services
P.O. Box 25612
Richmond, VA 23060
Fax number: 804-232-1407, Attn: Claim Resolution Services
How to get an updated claim status:
There are also several ways to get an update on your claim status. If you have a My Estes account, you can check the status of your claim online. You can also contact the Claim Resolution Services team at 804-353-1900, Ext. 2030. The automatic claim status feature allows you to input your claim or PRO number and a destination ZIP code to access your claim status 24/7. You can also speak to a Claim Support team member during normal business hours (M–F, 8:00 a.m. to 8:00 p.m., ET) or leave a voice mail message. Finally, you can also email your request for a claim status to claims@estes-express.com.
Freight Shipping Made Simple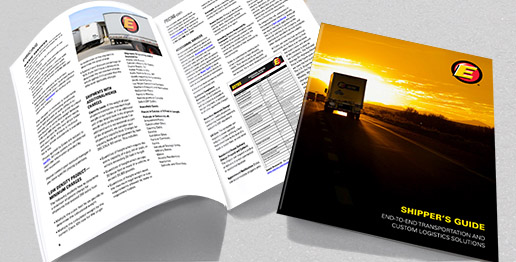 Learn how to prepare and ship your freight with our comprehensive Shipper's Guide resource.